Films are filmed here, you can go to a café, the theatre and in autumn Designblok will take place here for the third time. The Gabriel Loci space in Prague's Smichov district came to life some time ago, but there are still other possibilities. "For me, the environment here is very inspiring and it is partly because of the space itself. The monastery is close to the Kinský Garden, you can walk here from Petřín, the outdoor area is hidden behind a high wall, there is a café, a bar, an ideal place for relaxation but also for business meetings, the interior of the building is often changed thanks to the events organized and I am always surprised how the interior spaces can still be used differently," says Magdalena Dvorská, who takes care of the space and its use.
The idea of an incredible amount of demanding work, the joy of such a beautiful project, the enormous challenge of how to turn a dilapidated building into a functioning space that will serve a variety of purposes…? What did the purchase of St. Gabriel? Why did you decide to buy?
She joined Cimex when the building had already been purchased, but the owners perceived St. Gabriel as an interesting investment opportunity with huge potential. The fact that this is a historic building that has been unused for a long time and deserves to find its function and a respected place in Prague 5 certainly played a role here. In addition, Cimex has experience in the reconstruction of listed buildings, for example in Karlovy Vary, where it sensitively combined modern elements with historical ones in the multifunctional Vindobona building and the Postal Court restaurant.
We will continue to develop the building with the utmost respect for its heritage protection and sensible commercial use while maintaining the building's status as a cultural monument. We are pleased that we are gradually giving the Gabriel Loci building a new life and opening its gates to the public so that it makes sense economically, of course it can't be done without that.
I perceive the operation, organizing new events and at the same time looking for other opportunities and possibilities to use the building as a great challenge, but at the same time the meaningfulness of the whole project and the joy of it outweighs the difficulty of the work.
Magdalena Dvorská (28)
Magdalena has been working at Cimex for 3 years as a project manager. He is in charge of all operations, traffic and rentals at Gabriel Loci. He is also studying at the University of Oxford, where he is pursuing an MA in Literature and Art. She lived in the UK for 8 years. Her hobbies include languages, she speaks English, French, Spanish and Italian. She likes art, reading and travelling.
How long did it take to get the building up and running and start renting? And you're going to make money "for yourself" today?
It took about three months to get the building back into working order, mainly repairing the roof, sanitary facilities and event spaces. Even during the current operation, we have to carry out other maintenance work, the whole building is not heated, for example, so we are always looking for further improvements to make the best use of the building, but we are still able to earn money for our operation.
There are about 30 artists with studios here, you rent offices here, you made your own office here, is it inspiring for you to work in such a place? What reactions have you gotten from artists? Do you feel that the space is inspiring for artists?
For me, the environment here is very inspiring and it's partly because of the space itself. The monastery is close to the Kinský Garden, you can walk here from Petřín, the outdoor area is hidden behind a high wall, there is a café, a bar, an ideal place for relaxation but also for business meetings, the interior of the building often changes thanks to the events organized and I am always surprised how it is still possible to use the interior spaces differently and then there are filmmakers who often "improve" the building beyond recognition. Another inspiration for me are the new and interesting people I meet here, from the ranks of artists, filmmakers and journalists. I am pleased that events are held here for the public and the building is accessible to everyone.
Are you going to make other spaces operational enough to rent them out longer term, as offices, art studios or otherwise?
Yes, we are definitely working on getting the other areas back up and running. Currently, the ground floor is used for events and offices, the second floor is occupied by artist studios and in the future I would like to adapt the first floor where I would like to set up offices and studios.
What upcoming events can visitors look forward to? Have you set up a summer scene, a bar, are you planning any other news?
In the second half of May, we hosted a performance of the immersive theatre of the association Depressed Children Craving Money, their second production in which the audience is involved in the action. This association has taken a liking to our premises and we look forward to their next venture.
During the first weekend in June, there will be a crypto-conference for the public. From 15. to 19. In June, we will be organizing together with The Chemistry Gallery an art festival called WHAT WE DON'T GIVE A NIGHT IS A DAY, it will be the second edition. The main idea of the festival is to connect different artistic disciplines, there will be an exhibition of works by artists in residence, an exhibition of art schools, and the festival will use both outdoor and indoor spaces. There will be sculptures, photographs, paintings, all accompanied by live and electronic music. The summer cinema will screen films, hold workshops for children and lectures.
In mid-June we open the summer cinema and the associated summer scene. The outdoor bar is already working for us, and both the bar and the summer stage can be rented for private use.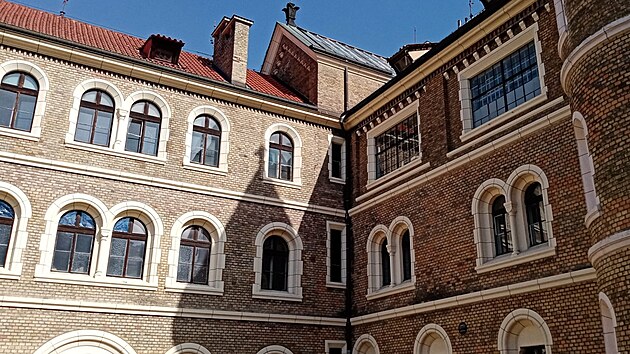 Are you considering a winter option? Restaurant, bistro inside? Or a permanent indoor scene?
I'm certainly interested in this topic. We are intensively trying to come up with a winter option, which would be appreciated especially by regular visitors, artists in residence or tenants. But the biggest obstacle for us is the fact that the premises are not sufficiently and fully heated. We are working on it and I firmly believe that we will find a possible option.
Will you again host Designblok, which has already taken place here twice? What is your relationship to Czech design?
This autumn we will be hosting the third Designblok, we are very happy about it. I have a very positive and warm relationship with Czech design, I think it is unique and our designers and fashion designers are versatile and unique.
I try to buy fashion mostly from Czech designers, I find their designs unusual and unique. I love dresses by Jakub Polanka or Zuzana Kubíčková. Now we are also planning a show with Teresa Vu, whose models were presented at Mercedes-Benz Prague Fashion Week and it would be great to have her new collection here.
How is the opening of the long inaccessible building perceived by the public, citizens of Prague and neighbours? Wondering what they think?
We are certainly interested in what both the people of Prague and our closest neighbours think about our activities in the former monastery. We are trying to open the beautiful premises to the public as much as possible, so we are organising various events for the public, and we have opened an outdoor bar and a summer stage that will be open throughout the summer. One of our closest neighbours also approached us with an interest in organizing a birthday party, which took place and we have had very positive feedback from the neighborhood that the building is open to the public again, it is not falling into disrepair, and on the contrary, it is reviving and becoming a cultural center.
The former Benedictine monastery is widely used by film productions for filming. What are the most interesting projects that have taken place in your country?
Undoubtedly, the most interesting recent project was the filming of Extraction 2 with Chris Hemsworth. This project has been in the works in Prague since September last year. Interiors and exteriors have also appeared in the Marvel Studios series, Falcon and Winter Soldier. Last spring, she used a Netflix production instead, On the Western Front Quiet. Gabriel also attracts Czech filmmakers, the premises can be seen in Hřebejk's new project for HBO, the interior was featured in the series The First Republic and the Czech Specialists regularly returns to film here.
We are currently in talks with three big productions to shoot here in the summer, but I can't reveal what they are yet.
Most of the events that take place in our company are external, it is a rental of the space we provide. The only "our" event is the already mentioned Art Festival, WHAT WE DON'T GIVE A DAY IS A NIGHT, which is why it is unusual for us, together with Petr Hájek from The Chemistry Gallery, we are preparing the whole event, we are trying to support the artists in residence, then Czech art as such and we are looking for a creative way, we know that art is not for everyone, so we are coming up with an interesting accompanying program to attract as many spectators as possible.
What are your plans for the space in the future? Is a luxury hotel still in consideration?
This consideration is still valid, we have considered other alternatives, but this option still works best for us. This is a long-term project, the building is listed and preparations are currently underway.
Source: The Gabriel Loci space is extraordinary. We want to open a summer cinema, says Magdalena Dvorská